Number 304


The Gunmaster


Gregory Gayle is Toni Gayle's dad. Who's Toni Gayle? She's the sexy chick with Bettie Pageboy hair who is the main character of Guns Against Gangsters. I showed her story from this issue, #6, July-August 1949, in Pappy's #22. Guns Against Gangsters, or GAG for short, is a crime comic book, but not like the type that we usually think of, the Charles Biro-edited books like Crime Does Not Pay, or Crime and Punishment. GAG had regular characters, and attempted to deflect the flood of criticism of crime comics that was following in the tidal wave of their success.

Gregory Gayle was kind of an early NRA spokesperson. He liked guns and was an expert as he shows in this story, taking out the crooks with an antique Kentucky long rifle. L. B. Cole, who drew the story, and maybe wrote it too, was reputedly an outdoor type of guy who liked fishing and hunting. There was probably some of L. B. in Gregory.

When you read the bottom of page 8, you see the line, "All comics are not alike. First read and compare them, then criticise." Some of the readers took them up on that. They could earn a buck for getting their letter published. This letter by a soldier shows both that GAG published critiques of itself, and also how the language and meanings have changed: "[The cover] should be more gay, with more action," read a lot differently 59 years ago than it does today.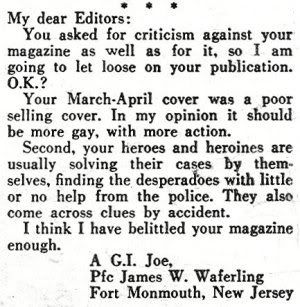 Page 1 / Page 2 / Page 3 / Page 4 / Page 5 / Page 6 / Page 7 / Page 8 / Page 9