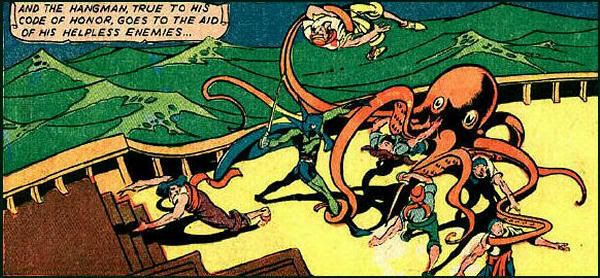 Number 191


Arrrr! Hangman talks like a pirate today


September 19 is Talk Like A Pirate Day. Here at Pappy's we like pirates and like to arrrrrrgghhh along with Robert Newton in Treasure Island.

This Hangman story is from Hangman #8, Winter 1942-43. But the pirates are from 1498. You'll just have to read the story, because I can't explain it. All I can say is, it's vintage Golden Age comics. It's drawn by the great Bob Fujitani, signing himself Bob Fuje. He's drawing in his early style. Within a few years he'd adopt a more realistic, illustrative style. As you can see from some of the panels, a lot of his influence for the drawing in this story came from Will Eisner.

After you've read the story, mateys, swing your cutlasses, shake your pirate booty and holler arrrrrgghhh in honor of Talk Like A Pirate Day.

Page 1 / Page 2 / Page 3 / Page 4 / Page 5 / Page 6 / Page 7 / Page 8 / Page 9 / Page 10 / Page 11 / Page 12 / Page 13

Thanks to 1506NixNix for the scans.